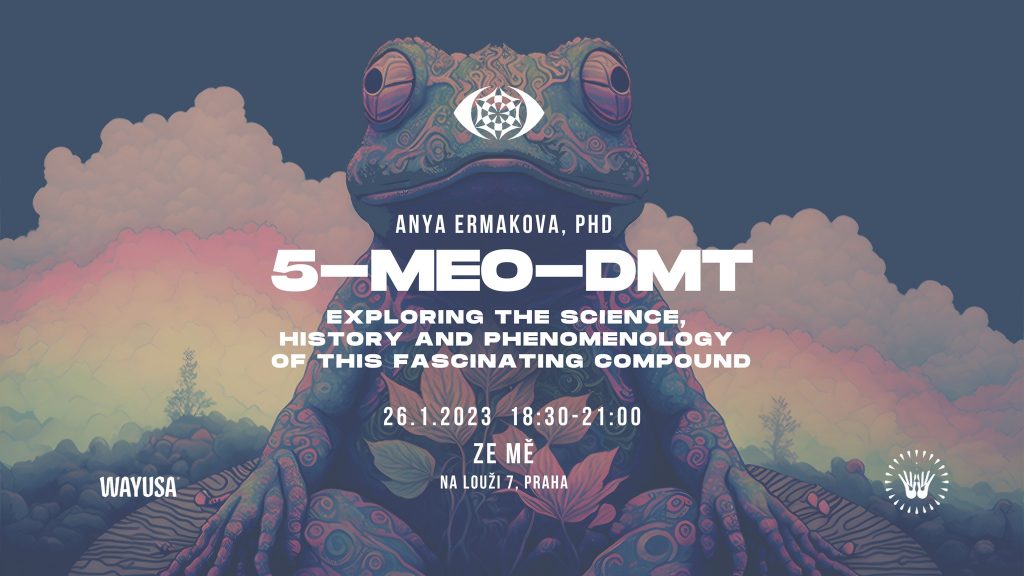 Datum: 26.1. 2023, 18:30 – 21:00
Místo: Na louži 7, Ze – mě, Praha
Událost
The Czech Psychedelic Society invites you to the lecture that will dive deep into the history and science behind 5-methoxy-dimethyltryptamine (5-MeO-DMT), a naturally occurring tryptamine psychedelic found
 in a variety of plants and most notably toad Incilius (formerly Bufo) alvarius. Plants containing 5-MeO-DMT have been used throughout history for ritual and spiritual purposes. Currently there is a growing recreational/spiritual use of both synthetic 5-MeO-DMT, as w
ell as toad 'venom', and several clinical studies are underway to study this fascinating molecule. 5-MeO-DMT is a classic serotonergic psychedelic, and is chemically similar to another short-lasting tryptamine, DMT. However, despite the similarities in the intensity and the duration of the experience, subjective effects are markedly different. Yet clinical research and understanding of the mechanisms of action of this entheogen are just beginning. In fact, so far only one clinical trial in healthy volunteers has been published, indicating the safety of up to 18mg of vapourised 5-MeO-DMT.
In this talk the current state of knowledge on 5-MeO-DMT will be summarized, covering pharmacokinetics, pharmacodynamics, and epidemiological research of recreational/spiritual use. Later on, the ongoing clinical research will be reviewed into this compound's fascinating properties and potential therapeutic applications.
Anya Ermakova, PhD
Anya is interested in nature conservation, ethnobotany, neuroscience and psychiatry, interweaving these diverse paths through psychedelic science. Deep love for nature motivated Anya to study biology at the University of Edinburgh, while a quest to understand altered states of consciousness prompted her to complete PhD in psychiatry at Cambridge. Anya worked at the forefront of psychedelic science, starting in 2015 as a science officer for the Beckley Foundation. She then decided to pursue her passion for nature, researching peyote ecology and conservation at Imperial College London. Anya is a board member of the Chacruna Institute and a research consultant currently working on the clinical trials of 5-MeO-DMT. She is particularly interested in the phenomenology of 5-MeO-DMT experiences.